The Wege Center for the Arts
After 50 years
After fifty years of dependable service, this original Parsons College building has been reimagined and recreated to reflect the highest ideals of the arts. An enormous transformation has been achieved! Now, the finishing touches lie before us.
Imagine the impact of these final changes: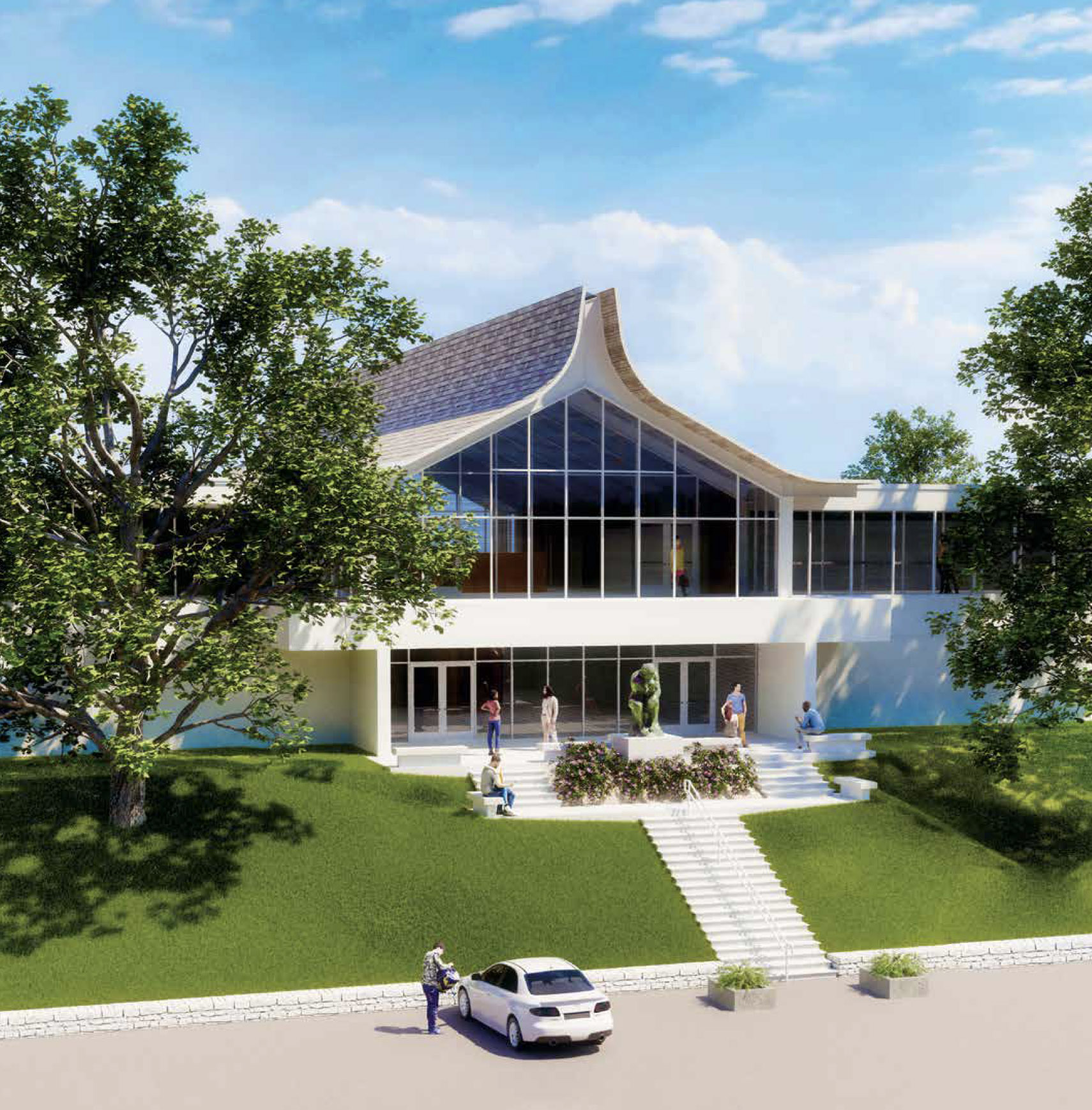 East Stairway, Grand Plaza and Sculpture Showcase
The most significant upgrade to The Wege Center for the Arts will be to replace the decrepit eastern stairway with an elegant new design that culminates in a Grand Plaza and Sculpture Showcase, with indoor and outdoor seating. Planters will adorn the foot of the stairs, and the crumbling stone retaining wall will be rebuilt.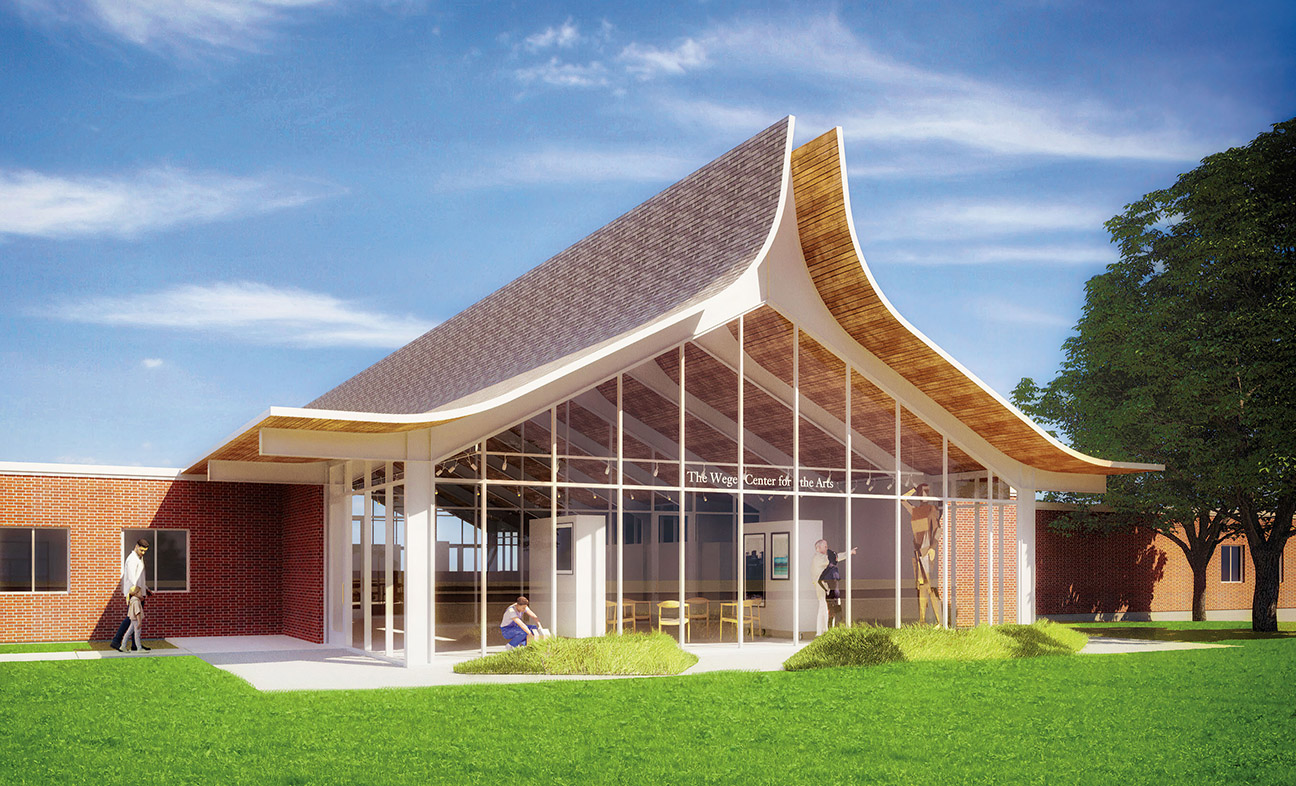 The new western glass façade of The Wege Center needs a finishing touch. It needs landscaping—islands of native grasses surrounded by river-washed pebbles—and to be beautifully lit at night with soft floodlighting.
Likewise, on the eastern side, the new Stairway, Grand Plaza and Sculpture Showcase will need plantings around the sculpture showcase, solar lights along the stairs, and soft flood lighting for the building façade.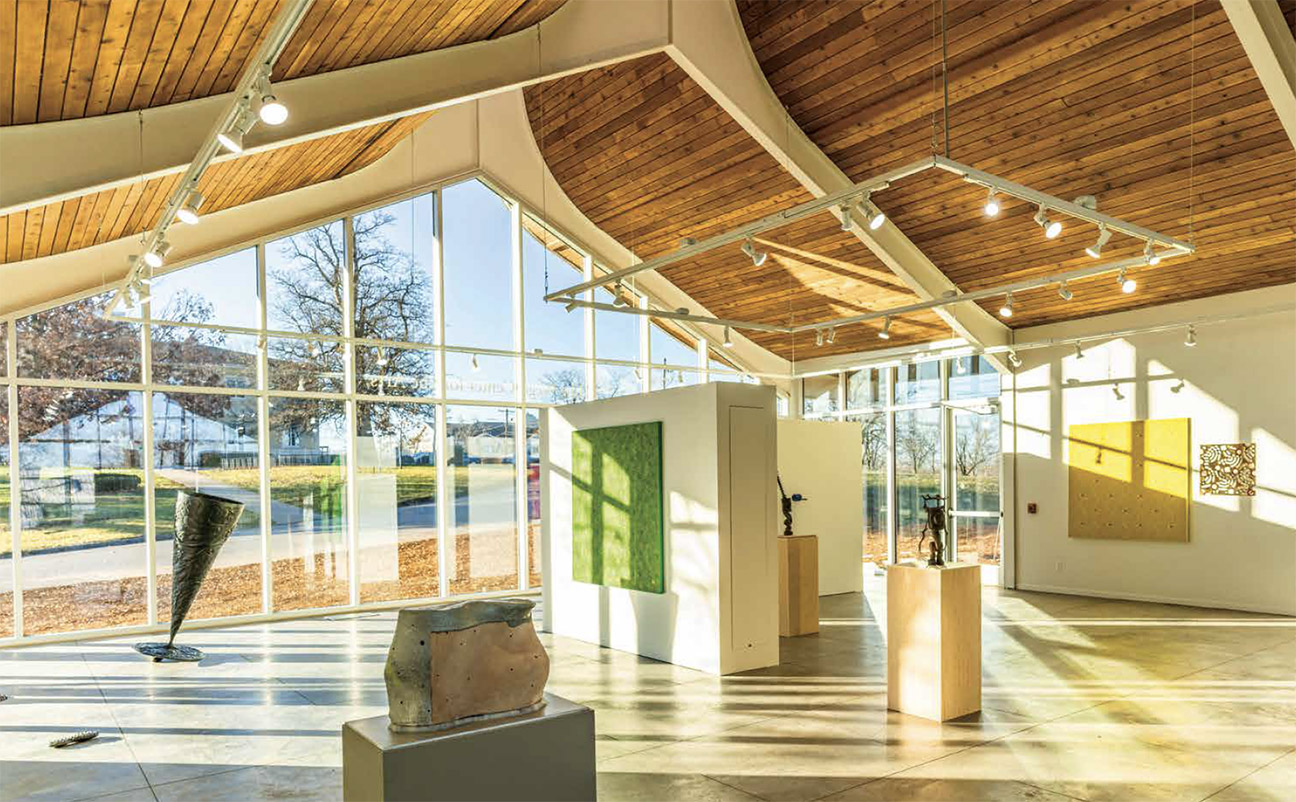 "This is the most exquisite art display space I've seen in my 58-year career as an artist." – Max Fleischman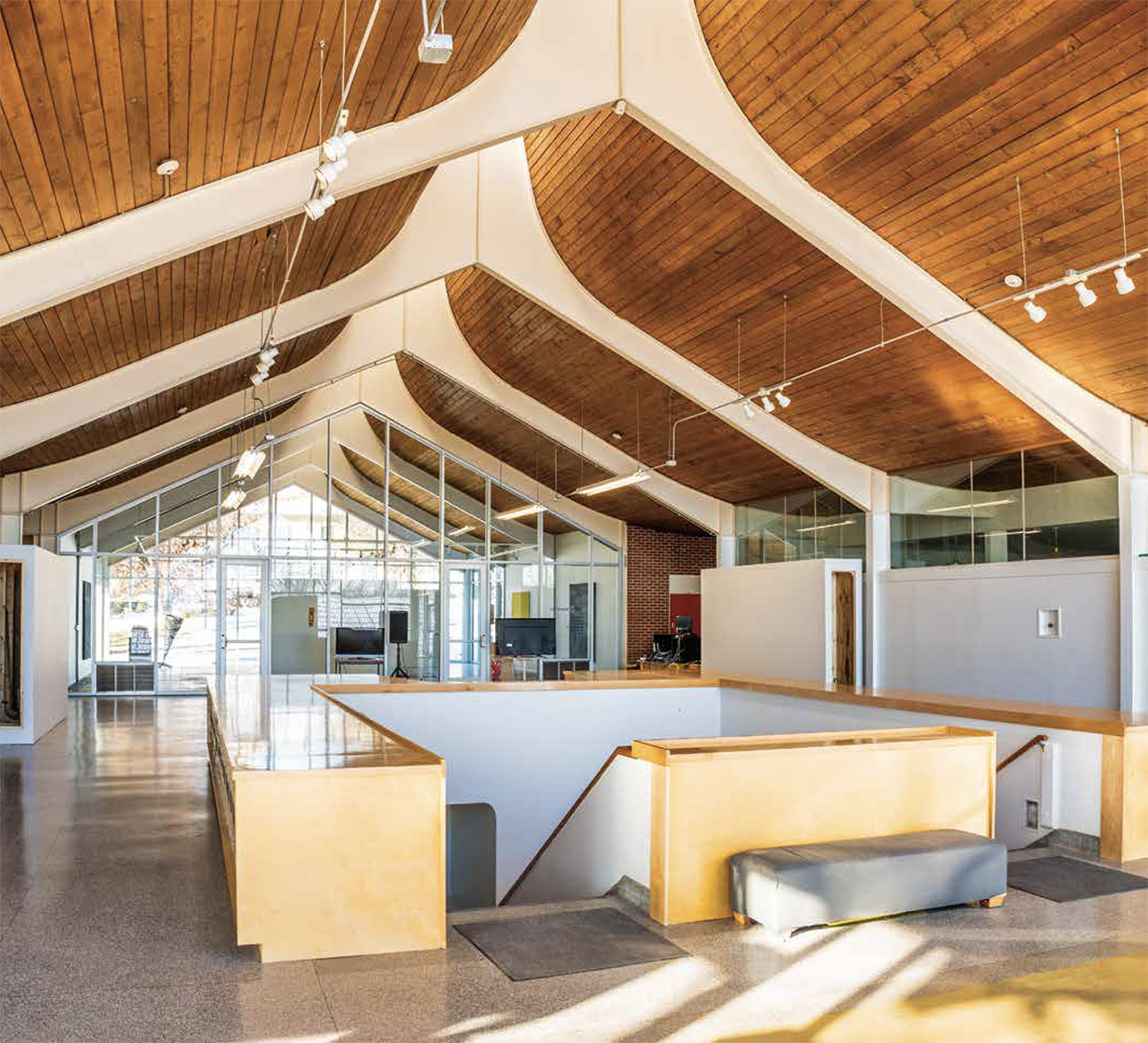 Main Foyer Floor and East Entrance Carpet
The coup de grâce will be applying an epoxy finish to the floor of the Wege Center's beautiful grand foyer. This spacious room with its high-vaulted, natural wood ceiling needs a floor coating that will provide long-lasting beauty and endurance.
Also, the entry carpet that escorts visitors from the SkyWalk into the foyer needs to be replaced after years of traffic.
These two finishing touches will complete the project and make a stunning difference.
Cost for both: $10,000 (cheap!)
These items bring the project to a graceful completion.
There is nothing like a dignified Parking Lot to complete the total makeover of a building. We have a beautiful design for an elegant, spacious, 100% pothole-free, mud and-weed-free parking lot to replace our current, jam-packed, cracked and rubble-strewn parking lot.
Conveniently located to serve both The Wege Center and Dreier Hall, this major upgrade will make this historic East end of our campus both beautiful and highly functional.
Cost: $90,000 (Value: priceless)
The newly refurbished wrap-around SkyWalk, which leads around to the upper level East entrance, will be outfitted with an attractive awning to protect pedestrians from rain and snow. Special lighting will add safety and beauty.
Finally, a brick-colored, ground-level base wall will add further beauty while offering convenient, hidden storage for outdoor equipment—keeping the whole area neat and tidy.
For those with limited mobility, a driveway that circles the south side of the Wege Center and ends at the new East entrance and Grand Plaza will provide easy access to our ground-level classrooms and studios.
The Wege Center for the Arts Total Cost: $390,000
*With special thanks to the Wege Foundation
Other Ways of Giving to Support Capital Projects
Mail
Make a check payable to MIU and mail to:
Development Office
Maharishi International University
1000 North 4th Street
Fairfield, IA 52557
Please include the phrase "Capital Campaign Project: Faculty and Administrator Family Apartments" in the check memo or attached note. 
Bank Wire
Send a wire from your bank  to:
First National Bank
100 East Burlington
Fairfield, Iowa 52556 USA
Routing # (also referred to as ABN #) 073901877
Maharishi International University
1000 North Fourth St.
Fairfield, IA 52557 USA
Account # 14-9825-8
Include your name, the word "donation" and the sentence "Capital Campaign Project: Faculty and Administrator Family Apartments"
Stock
Donating Stock to MIU:
You can donate shares of stock to MIU if the stock has appreciated and you have owned it for at least one year and a day. However, if the stock has lost value, it's better to sell the stock first and give the cash to MIU.
In the latter case, you will still be able to deduct the donation of cash if you itemize deductions, and you will also be able to take a capital loss for selling the securities at a lower price than when purchased.
To donate stock, all you have to do is to send your broker following account information and indicate the securities and the number of shares to be included in the gift:
DTC 0443, Pershing LLC, for the benefit of Maharishi University of Management, Account #: QGW-002404
NOTE: MIU's brokerage account name is still MUM so use the above until further notice.
Once the stock has been transferred please email us at giving@miu.edu and let us know what stock was in the gift and the number of shares
Crypto
MIU accepts donation of the following cryptocurrencies:
Bitcoin (BTC)
Bitcoin Cash (BCH)
Dai (DAI)
Ethereum
Litecoin (LTC)
USD Coin (USDC)
Click here to get started.