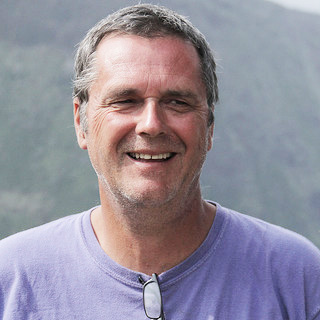 Program Director, MUM Hawaii Program
Associate Professor of Sustainable Living
Lonnie Gamble has taught at the Maharishi University of Management for ten years
Lonnie Gamble is a founding faculty member in MUM's Sustainable Living department. His expertise includes renewable energy, food and agriculture, sustainable economics and local alternatives to the global economy, permaculture design, and green building. He regularly presents and writes on these issues. Lonnie has founded many for-profit and non-profit sustainability ventures, including Abundance Ecovillage, the Sustainable Living coalition, Big Green Summer, Abundant Planet Radio collective, and five companies in the area of renewal energy and telecommunications. He has been teaching, developing sustainability curriculum, and mentoring students since 1996. He has a degree in Electrical Engineering from North Carolina State University.
Lonnie and his wife live in a straw bale home, where they harvest rain for water supply, get their electricity from solar and wind power, and eat something fresh every day from their extensive gardens. They haven't paid an electric bill in 15 years.