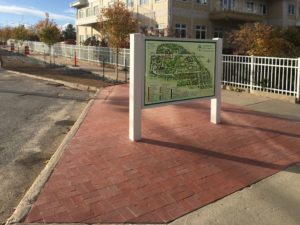 Construction has been completed on a new brick patio located beside the the Argiro Student Center entrance and its nearby parking lot.
The accompanying sign displays a campus map, and there will be signage on the opposite side as well. The site will also include a waiting bench and a few bollards (vertical protective posts) to shield the structure from vehicles.
Also in the plans will be uplighting for the new maple trees.
---
Development Office ♦ Maharishi International University ♦ 1000 North 4th Street ♦ Fairfield, IA 52557
giving@miu.edu ♦ 641-472-1180 Monday-Friday, 10:15-4:30 CST
Maharishi International University, a nonprofit, tax-exempt 501(c)(3) corporation since 1988, is designated to receive charitable gifts.