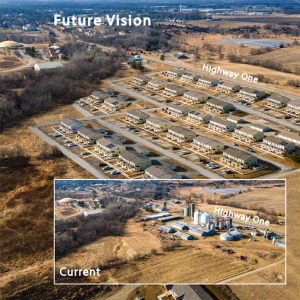 This is an opportunity we must not miss!
 Seventeen acres for prime vastu construction. This all-too-familiar
 eyesore, strewn with towering 50-year-old grain elevators, affronts 
every visitor who approaches campus from the north.
We now have an opportunity to acquire and
 transform this land. A two-minute walk from our main campus, this land
will allow us to:
    
Build new faculty and staff housing
    
Expand our Global Peace Village (replacing our current trailer park)
    
Create a vastu Assisted Living facility for retiring community members from MIU, Fairfield, and across the country, and
    
Expand North Campus Village, for which there is already a waiting list of several hundred people.
This will not only allow MIU to expand; it will help fill our Domes and make them a true powerhouse of coherence for the nation.
What an inspiration it will be to transform 
this old industrial site into a glorious and impressive welcome to MIU 
for all those arriving from afar.
Cost: $525,000