October 18, 2021 • ISSUE 593
Dr. Manisha Mittal
Practicing Integrative Medicine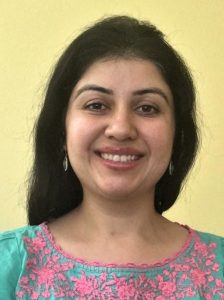 MIU student Dr. Manisha Mittal grew up in India in a family of doctors. Watching her parents practice medicine inspired her to follow in their footsteps and study Western medicine. While in medical school, she lost her brother in an accident, which furthered her desire to practice medicine. At the same time, her experience of grief propelled her on a spiritual journey to find the meaning of life.
Manisha completed her internal medicine residency at Columbia University Hospitals and her fellowship training in rheumatology at the University of Iowa Hospitals and Clinics. While studying in Iowa City, she and her husband, who is a gastroenterologist, learned the Transcendental Meditation® technique. "After learning TM, I felt a lot of balance in my life, and I also wanted to learn Vedic knowledge," said Manisha.
Manisha is now completing her final year of the online MS in Maharishi AyurVeda and Integrative Medicine program. "It's a wonderful program," she said. "It's very thorough and complements my Western medical training."
Manisha lives in California and runs the Moksha Holistic Health Center with her family. She provides integrative health care for rheumatology patients and offers consultations and workshops in ayurvedic diet and lifestyle. She also co-hosts a wellness segment on the local news program Central Valley Today.
Using ayurvedic spices for health and digestion is one of the topics Manisha likes to talk about, and she grows her own herbs and spices, including turmeric. When her patients complained about the bitter taste of turmeric, she and her children came up with the idea of incorporating it in ice cream. She partnered with a local organic dairy farm, designed the labels and the packaging, and started manufacturing her Golden Ice-Spice ice cream.
Manisha is passionate about integrating Western medicine with Ayurveda, emphasizing the role of consciousness in maintaining a balanced life. She is currently writing a book about the connection of spirituality and medicine that will include simple everyday practices for healing, empowerment, and self-realization.